金属钠和醇为还原剂(Bouveault-Blanc反应)
本反应是将羧酸酯用金属钠和无水醇直接还原生成相应地伯醇,主要用于高级脂肪羧酯的还原。
由于催化氢化和氢化铝锂的广泛应用,此法在实验室中已经很少采用,但是因为其简便易行,在工业上仍然广泛应用。Bouveault-Blanc反应的历程可能如下: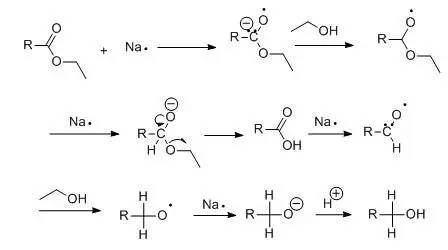 一、金属钠和醇为还原剂(Bouveault-Blanc反应)示例

The central neck of a 5-l. three-necked round-bottomed flask is fitted with astopper carrying a mercury-sealed mechanical stirrer. One of the side necks isconnected by means of a short piece of heavy rubber tubing to a large refluxcondenser about 2 m. long, with an inner tube 2.5 cm. in diameter. The thirdneck is fitted with a separatory funnel.
In the flask are placed 70 g. (3 moles) of sodium and200 cc. of dry toluene. The flask is heated in an oil bath until the sodium ismelted. The stirrer is then started; when the sodium is finely divided, the oilbath is removed and the mixture allowed to cool. Stirring must be continuedduring the cooling in order to keep the sodium finely divided.
Whenthe mixture has cooled to about 60°, there are added from the separatoryfunnel, first, a solution of 114 g. (0.5 mole) of ethyl laurate in 150 cc. ofabsolute alcohol, then 500 cc. more of alcohol, as rapidly as is possiblewithout loss of material through the condenser. The time required for theaddition of the ester solution and the alcohol is less than five minutes,usually two or three minutes. When the reaction has subsided, the flask isheated on a steam bath until the sodium is completely dissolved. The mixture isthen steam-distilled to remove the toluene and ethyl alcohol. The contents ofthe flask are transferred to a separatory funnel while still hot and washedthree times with 200-cc. portions of hot water to remove the sodium laurate.The lauryl alcohol is extracted with ether from the cooled mixture and thewashings. The combined ether extracts are washed with water, sodium carbonatesolution, and again with water, and dried over anhydrous magnesium sulfate. Theether is evaporated and the lauryl alcohol distilled under diminished pressure.The yield is 60–70 g. (65–75 per cent of the theoretical amount) of a productboiling at 143–146°/18 mm. or 198–200°/135 mm.
【Organic Syntheses, Coll. Vol. 2,p.372; Vol. 10, p.62.】
金属氢化物为还原剂
羧酸酯用0.5 mol的氢化铝锂还原时,可得到伯醇。

如仅用0.25mol并在低温下或降低氢化铝锂的还原能力,可使反应停留在醛的阶段。
降低氢化铝锂还原能力可以提高还原反应的选择性。常用的的方法是加入不同比例的无水三氯化铝或者加入计算量的醇,取代氢化铝锂中1-3个氢原子而成铝烷、或烷氧基氢化铝锂。如用烷氧基氢化铝锂还原α,β-不饱和酯到α,β-不饱和醇,若单用氢化铝锂还原,则得到饱和醇。
单纯使用氢化硼纳纳还原酯效果较差,若在Lewis酸如AlCl3, ZnCl2存在下,还原能力大增,可顺利的还酯,甚至可还原某些羧酸。
由氢硼化钠和酰基苯胺在α-甲基吡啶中反应,生成的酰苯胺氢硼化钠是还原酯的有效试剂。其优点:反应操作简便,不需要无水条件,反应选择性好。
一、 LAH还原羧酸酯成伯醇示例
利用LAH还原羧酸酯到伯醇是一个快速,后处理较为简便的方法,一般情况下,酯基可在零下30℃下反应30 分钟即可被还原。因此即使分子内有酰胺或其他一些敏感的官能基存在也没什么关系。

A dry, 500-mL, three-necked, round-bottomed flask isequipped with a 150-mL pressure-equalizing addition funnel, a reflux condensertopped with an inert atmosphere line, a glass stopper, and an egg-shapedmagnetic stirring bar. The flask is charged with lithium aluminum hydride (2.66g, 0.070 mol) and anhydrous ether (50 mL). The flask is cooled to 5°C in anice-water bath. A solution of (2R)-methyl4-(tert-butyldimethylsilyloxy)-2-(dimethylamino)cyclohex-3-enecarboxylate (22.4g, 0.072 mol) in ether (80 mL) is transferred to the addition funnel and addedover a 30-min period. The reaction mixture is stirred for another 15 min,diluted with ether (100 mL), and quenched by dropwise addition of water (9 mL).The ice-water bath is removed, the resulting gray suspension is allowed toreach room temperature, and the mixture is stirred vigorously for an additional60 min. The mixture is transferred to a 1.0-L Erlenmeyer flask and diluted with350 mL of ether. Anhydrous sodium sulfate (Na2SO4) (60 g) is added,the suspension is stirred for 30 min, and filtered. The filter cake is washedtwice with ether (50 mL each time). The solvent is removed on a rotaryevaporator and the remaining volatile material is removed under high vacuum toafford 18.6 g (91%) of ((2S)-4-(tert-butyldimethylsilyloxy)-2-(dimethylamino)cyclohex-3-enyl)methanolas a viscous clear oil.
【Organic Syntheses, Coll. Vol.10, p.442; Vol. 78, p.160.】
二、异丁醇铝还原α,β–不饱和酯到α,β–不饱和醇示例

To a solution of3-(1H-benzoimidazol-5-yl)-acrylic acid methyl ester (50 mg in 1 ML drytetrahydrofuran) at -78.deg. C. was added 1.24 NL of a 1M solution of lithiumtri-sec-butylborohydride in tetrahydrofuran and the mixture stirred at -78.deg.C. for 4 hours followed by warming to -40.deg. C. for an additional 4 hours.
Thereaction was quenched by addition of aqueous methanol, concentrated in vacuoand purified by flash chromatography on silica gel (methylenechloride:methanol, 87:13) to give the title compound (44 mg).
【(Patent; Merck and Co., Inc.;Publ.: US5849764 A1 (1998/12/15), Appl.: US1996-760817 (1996/12/05))】
三、硼氢化钠(钾)还原羧酸酯成伯醇示例
利用硼氢化钠(钾)还原羧酸酯到伯醇操作较为安全,简单的方法,由于硼氢化钠的还原性不够强,因此这类反应一般需要回流过夜。反应初始阶段不要去加热,而是在室温下搅拌数小时后在,再加热缓缓回流,否则反应极容易喷出来。硼氢化钠在甲醇中分解较快,这个反应尽量不要用甲醇做溶剂。

To a stirred suspension of 58.5g (300mmol) of dimethyl pyridine-2, 6-dicarboxylatein 800ml of anhydrous ethanol was added in portions 53.0g (1400mmol) of sodiumborohydride at 0°C, after stirring for 1h at 0°C, the ice bath was removed andthe ongoing exothermic reaction caused the solution to boil under reflux.Stirring was continued for 3h, then the solution was heated under reflux foranother 10h. The solvent was distilled off and the residue was digested with200ml of acetone. The acetone was distilled off; to the residue was added 200mlof a saturated aqueous solution of K2CO3 and the wholewas heated for 1h with a boiling water bath. The solvent was again distilledoff, the residue was dissolved in 800ml of water, and sodium chloride was addedin portions with stirring until a colorless precipitate was formed. The productwas extracted three times, each time with 150ml of chloroform, the combinedorganic phases were dried with MgSO4 and filtered. The solvent wasdistilled off to give 37.8g (91%)of desired product as colorless needles。
【Liebigs Ann.lRecueil 1997,707-720.】
四、NaBH4-ZnCl2还原酯示例

To a suspensionof ZnCl2 (80.36 g, 0.591 mol) in dry THF (1000 mL), NaBH4(11.2 g, 0.3043 mol) was added in portions at 0~5℃ under nitrogen. Themixture was stirred for 30 min at 20~25 ℃, The mixture was cooledto 0~5 ℃ and compound (S)-diethyl 2-(triisopropylsilyloxy)succinate(82 g, 0.2368 mol) was added dropwise at 0~5 ℃. Then the mixture waswarmed to 55~60 ℃ and stirred for 18 hours. Afterconfirming the completion of reaction by HPLC, The result reaction mixture was cooledto -15~-10 ℃. Water (213 mL) was added dropwise to quench the reaction at-15~-10 ℃. The reaction was aged for 3 h at 20~25 ℃.Charged celite (12.3 g) to the mixture and then the solid was removed byfiltration. The filtrate was concentrated under vacuum to remove THF. And thefilter cake was washed with CH2Cl2 (250×3mL). The combined organic layers were washed with water (200 mL) and themixture was separated and the organic layer was dried over Na2SO4.The solution was concentrated to give compound (S)-2-(triisopropylsilyloxy)butane-1,4-diol (44.68 g, 0.170 mol, yield 71.9%).